Stardust: Featuring rotating special programs with live acts DJs, hosts, & guests every week.
Hosted By: Scott Cramer (Outdanced/Do312), & Kater Jayne
1st Thursdays: Stardust Presents LQQKS. Featuring special LQQKS, and performances, with Resident DJ [X]P & special guest host Lucy Stoole and rotating cast providing LQQKs all night long.
Drink Specials: $3 Berlin Bombs (now with Absolut), $5 "Tropical Sex" pints, $4 Honey flavored Whiskey (Jack/Jim), $2 PBR, $6 Stoli, $6 Jameson
---
Thurs. 3-30-17:
Stardust and Teen Witch Fan Club Present:
3D SLUT 4:
Video Game Beach Party
DJs: LSDXOXO (NYC), LA Olympics, CJ Milli, Spice Boy

Hosted by 3D Babes: Rubber Child, Mood Killer, Fee Lion, Nico, Empty Pools, Miss Twink, USA, Dirty Dick Mingo, Abhijeet , Scott Cramer

Photos by: Kater Jayne Photography

$2 PBR / $3 Berlin Bombs / $6 Stoli / $6 Jameson
---
Thurs. 4-6-17:
Men's Room & Stardust Present:
Femme's Room
Harry Cross (Men's Room), Eris Drew (Hugo Ball, Smartbar)

Performance By: Lucy Stoole

Hosted by: Saya Naomi, Johnny Perez, Petty Crocker, Fae, The Salamander, Abhijeet, & Scott Cramer

Photos by: Colectivo Multipolar

$2 PBR / $3 Berlin Bombs / $6 Stoli / $6 Jameson
Poster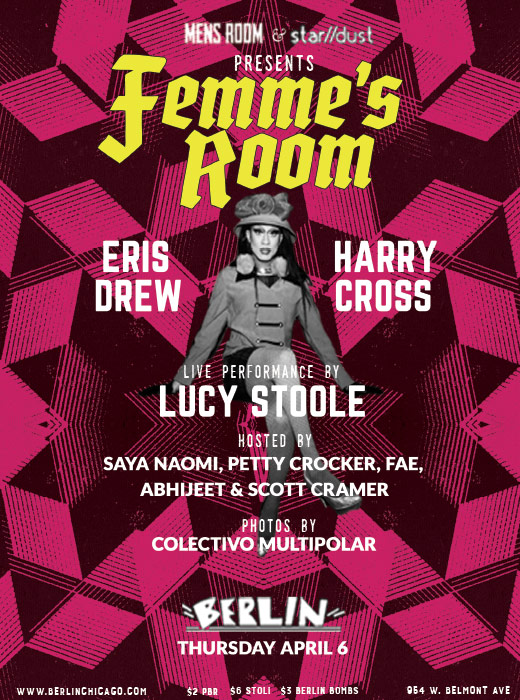 ---
Thurs. 4-20-17:
Stardust Presents:
Rosebud
Abyss X , Swan Meat, Itsï (live), Pollination Tech, Ariel Zetina
Hosted by: Sophie Bee, Lorena Cupcake, Petty Crocker, Aurorae Parker, Abhijeet, Scott Cramer
Video by: Paulalalalala
Photos by: Colectivo Multipolar
$2 PBR / $3 Berlin Bombs / $6 Stoli / $6 Jameson
---